Welcome to Addis All Around (AAA) Advertising Solutions
AAA offers an array of choices for customers who wish to maximize their business exposure. By choosing the placement, size, and duration of your ad, you can assure that your business in Addis Ababa reaches your target audience and that the maximum number of potential customers learn about your product. Choose from the three following options:
Sidebar Ads
These ads appear on the right side of every page of the addisallaround.com web site. Prices are based upon the size of the ad.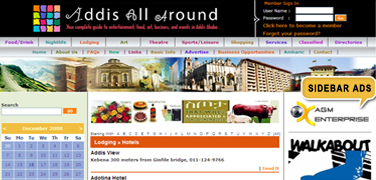 Target banner ad
These appear at the top of the content pages. For example, a user looking for a restaurant would go to the Restaurant content pages. If you have a restaurant, your ad will appear at the top of the restaurant listings. These are the categories available for content ads:
Under Food/Drink: Restaurants, Fast food, Ice cream, Pizza, Bakeries/Pastries, Cafés, 24-hour markets
Under Nightlife: Clubs, Azmari-bet, Traditional shows, Bars, Music
Under Lodging: Hotels, Guest houses, Motels, Apartments
Under Art: Galleries, Museums, Cultural Institutes, Sponsored shows
Under Theatre: Live theatre, Films
Under Sports/Leisure: Health spas, Fitness centers, Tennis centers, Swimming pools, Bowling alleys, Libraries, Golf, Yoga studios, Clubs and organizations
Under Shopping: Food market, Jewelry shops, Shopping centers, Flower shops, Souvenir shops, Boutiques
Under Services: Internet cafés, Transportation, Travel agents, Copy centers, Tours/Tour guides, Child care, Opticians, Dentists, Banks, Insurance companies
If your business falls into an unlisted category, please email us and we will consider adding that category to our menu.
If you would like to list your business in more than one category, the second listing will cost an additional 50% of your original ad cost.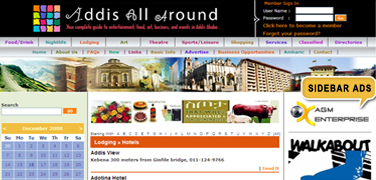 . Additional images and text can be accommodated. Please email us with your specific requirements.
. All ad space is sold on a first-come, first-served basis.
Terms and Conditions
. Pictures
Pictures must conform to size restrictions: 72 dpi, sizes depending on space purchased. Pictures may be in GIF, JPEG, or HTML format. The quality of the image is the responsibility of the owner, but AAA will not publish blurry, faded, or out-of-focus pictures. Owner may pay a fee (TBD) to have AAA designers improve their images.
In the "Content" listings, pictures appear in "square" format (112 x 112), so users should keep in mind this format when shooting pictures.
. Content
Text is the responsibility of the owner, however AAA will not publish text with errors, omissions, etc. Simple spelling errors will be corrected. Other changes requested by the owner, will be charged by the hour.
AAA will not publish any text with inflammatory, illegal, or pornographic content. Discretion of what constitutes inappropriate content lies with AAA.
Addisallaround.com does not accept Flash content.
.Payment
Payment must be received before content is posted.